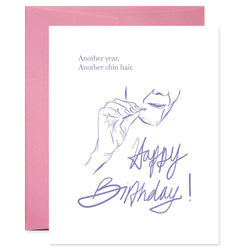 Good Juju Ink
Chin Whiskers Birthday Card
Another year, another chin hair. Happy Birthday!
No one warned us about the second wave of body changes that would hit us in adulthood like a hormonal tornado complete with stretch marks, cellulite and chin whiskers.  WHY DIDN'T ANYONE WARN US ABOUT THE CHIN WHISKERS???  Nothing screams adulthood birthday like waking up to a three inch chin whisker that LITERALLY appeared overnight, so be prepared to commiserate with your bestie on her special day (and maybe gift her a pair of tweezers).

Card is blank inside and comes with an envelope. 
Specifications

Card Measures 14cm x 10.7cm
Made in San Francisco
Masterfully letterpressed and printed on tree free cardstock