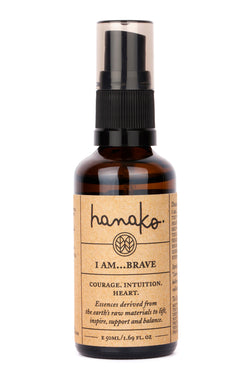 Hanako
I AM...Brave Elixir Spray 50ml
The Hanako I AM…BRAVE spray is a calming scent of grounding woods, yet uplifting citruses then softened with lavender and roman chamomile. A blend for the young and young at heart when feeling fear, self-doubt or anxiety.
I AM… Brave is a multipurpose aromatherapy elixir, no matter our age, to help us step up and into our innate power and loving strength and live by our lion hearts. Fresh, woody and citrusy I AM… Brave contains 6 different pure essential oils, gem and flower essences and crystal infused purified water and bathed in an ancient mantra for connection, unity, grace and blessings.
It is a relaxing and calming blend encouraging harmonious balance of mind, body, spirit and is a nourishing elixir during times of stress, fear or panic, promoting self esteem, self acceptance, self confidence and our ability to live in the world by our truth.
AFFIRMATION: "I am strong, I am peaceful and I believe in myself. I know my heart will always lead the way."

 TO USE:  mist over the crown of the head and take 10 deep breaths, letting the mist envelop you like a protective shield, filling your space with light, peace and empowerment.
I AM...Brave serene properties: Juniper, Grapefruit, Lavender, Cedarwood, Chamomile, Frankincense. Gem and Flower essences, crystal infused water. Bathed in mantra and sealed with love.